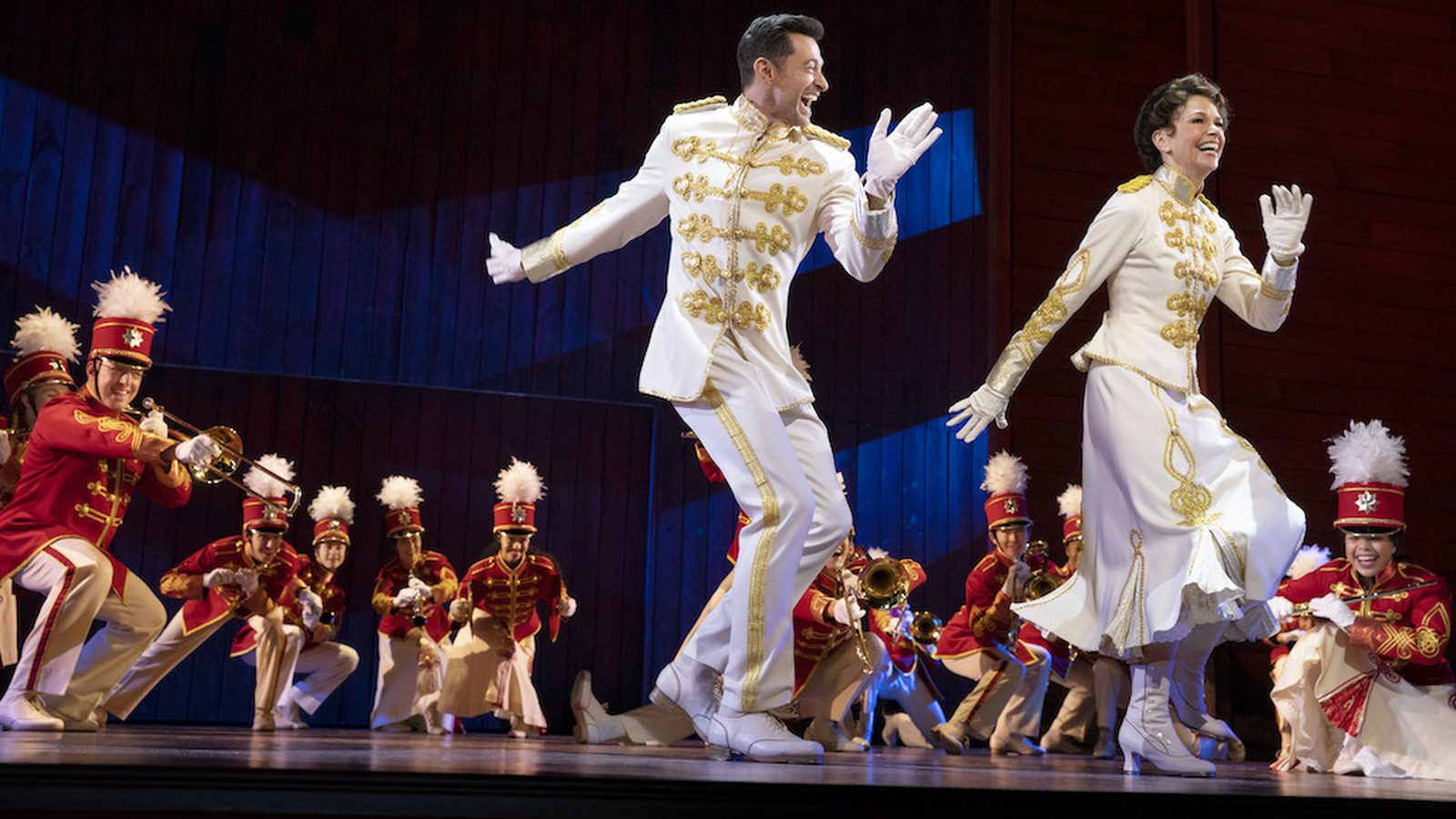 Determining the territory of this defanged revival
There's rich material here to mine for something darker — something akin to Daniel Fish's interrogation of "Oklahoma" in immersive theater and his blood-soaked marriage (increased and game-changing success). ), or "West Side Story" by Ivo Van Hove. revival (a botched experiment). Somewhere, the theater maker laughs maniacally, rubs his hands, scans Willson and Lacey's 65-year-old story's glaring bids for the motto of modern relevance: the mayor's first lady carrying the American flag and launching patriotic parades; drug paranoia; yells book bans because of "dirty" content; women's shame (that Marian slept with a miser to own a library is a rumor); and out-of-theatre theories that Winthrop is actually Marian's illegitimate child billed as his younger brother (see Broadwayworld 2006 message boards or "Schmigadoon").
But I don't want to forget the good times, the feel-good musicals and the simple covers. "The Music Man" doesn't need to emanate hardcore commentary, sink deeper into obscurity, or grasp relevance to be worthwhile entertainment – although it would benefit from something new. 2017's "Hello Dolly" revival, also directed by Zaks and choreographed by Carlyle, was a warm welcome. It was engrossing with generous enthusiasm, supercharged by star power, whether your Dolly Levi was Bette Midler, Donna Murphy or Bernadette Peters.
The story of a mischievous matchmaker getting her guy (history trusts her strength when she demands that her man love her as an equal), "Hello Dolly" kept its youth in 2017. As in "Hello Dolly", the romantic and comedic nerdyness of "The Music Man" can be an asset. Critics have pointed out that it's harder in 2022 to swallow the glorification of a peddler who waltzes around a city to fool people, get away with it, and still win over the smart girl. But "The Music Man" could be a romantic fantasy, and if Willson's catchy score and lyrics had been executed with the right infectious power, you might not notice you've been wowed by the superlatives until the end. fall of the curtain. But despite a robustly inventive opener where the sellers talk-sing to the breath, skid and screech of the train, "The Music Man" chooses to run through the rest of its crucial crowd songs with dimly lit energy.
And through slight lyrical tweaks ("Shipoopi" changes "you can't win her yet" to "the boy who tried his best"), "The Music Man" is unmotivated to make tunes. significant ones, especially those that could fill in the character blanks that guide our understanding of their actions. In one instance where Jackman plays real sincerity when Hill vouches for the town thug (Tommy Djilas, who has a genuine "nobody's ever defended me before" expression), his defense of a troublemaker doesn't offers no insight or history within Hill. This also goes for Marian. Could his grace to Hill also be partly a gamble to steer Hill in the right direction? Revival and Foster invoke the issue rather than entertain it.
At best, the presentation of "The Music Man" is benign (although it's worth noting the backstage departure of producer Scott Rudin after accusations of a long open secret at his hostile workplace). Passing its 2 hours and 45 minutes of operation, the revival is a generous dose of whipped cream that hides that there is not much cake to start with. This revival had the tools and the template, but it can only outline its territory.
The Music Man plays at the Winter Garden Theater in New York.