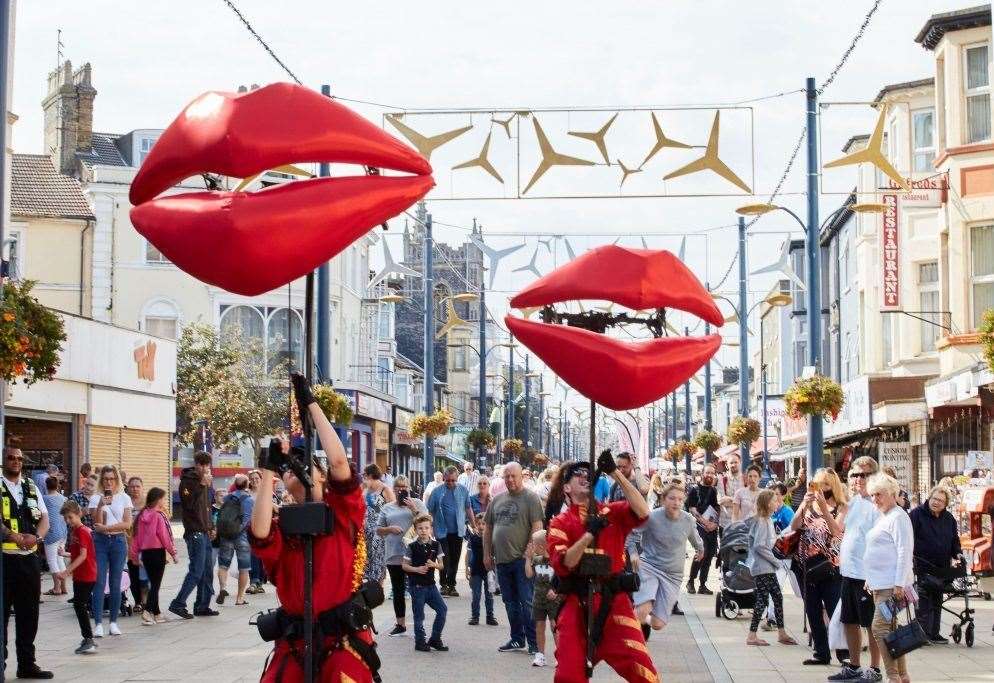 Giant puppet company swaps film and TV for Newbury as colour-shifting musical Lips tours the town
It's funny! For one day only, The Lips by Puppets with Guts – giant color-changing musical lip puppets – will lip-synch in Newbury town center for three solo shows on Saturday April 23, courtesy of Newbury BID and the Corn Exchange 101 Outdoor Arts.
The Lips is a mix of art and theatre, produced and directed by creative puppet company Puppets with Guts. Performances reanimate and celebrate songs from popular music culture, such as It's raining men, I'm so horny, single women and Spice up Your Life through a magical lip-sync mixtape.
Danielle Corbishley, Manager of 101 and Outdoor Programmes, said: "At the Corn Exchange we love to put on shows in public spaces in Newbury. Over the past 10 years, in partnership with Greenham Trust, we have been able to develop an outdoor program for Newbury, who have brought some of the world's finest acrobats, puppeteers and entertainers to our beloved town centre."
Hailing from Bristol and regulars at Brighton Pride and the Pop-Up London Festival, demand for the bold and daring puppet company has taken them all over the world. Performing at public events, shows and concerts, puppets are no stranger to the film, theater or television industry.
Standout performances include the 2012 Olympics, a concert for Sir Paul McCartney, the theatrical adaptation of Michael Morpurgo's "War Horse" and the Harry Potter film series Fantastic Beasts and Where to Find Them.
The Newbury Business Improvement District (BID) encourages visitors to take advantage of this great opportunity to see The Lips in action for free in the city center by making the most of the spring sunshine and enjoying food and drink in our cafes, pubs and independent restaurants.
Performances of 'The Lips' take place at 2pm, 4pm and 9.15pm, thanks to a new partnership with town center organisations, Newbury BID, the non-profit organization behind the Visit Newbury brand and 101 Outdoor Arts.
Newbury BID Director of Operations Alison Drummond said: "We are extremely fortunate to have secured these spectacular displays of giant musical puppets for Newbury and are grateful to be working with 101 Outdoor Arts, part of the Corn Exchange, to offer a day of entertainment for all to enjoy downtown.
'We hope visitors and local residents will enjoy a day seeing the shows here in Newbury enjoying the fabulous independent businesses, both hospitality and retail, that we offer!'
---
---