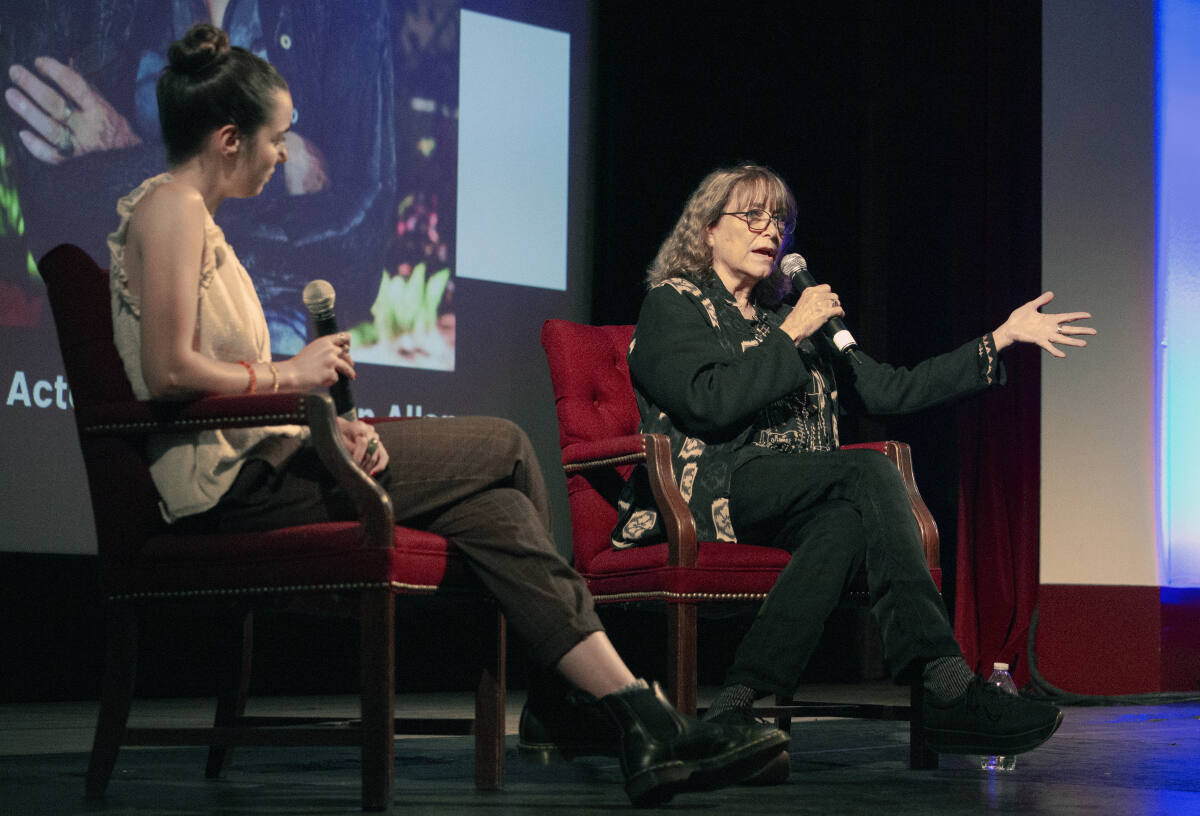 Students discover Hollywood with the Sonoma International Film Festival
The first Sonoma International Film Festival event in two years, the Student Showcase, opened at the Sebastiani Theater on Wednesday morning, marking the end of the long-awaited return.
"Thanks to our hard work, pandemic control and mass vaccination, we are able to celebrate them in a big way two years later," said Sonoma Media Arts Program Director Peter Hansen. Valley High School. "And now the mask is off."
The screening for students in the Media Arts Department premiered more than 30 videos ranging from documentary-style diaries of students living with COVID to burglaries and even boxing fights. Watching movies on the big screen at the Sebastiani Theater as part of SIFF makes students feel like a 'rock star'.
'Raiders of the Lost Ark' actress Karen Allen opened the event with a Q&A where she told stories about her decades in Hollywood working with stars like Donald Rumsfeld in 'Animal House to Bill Murray in "Scrooged".
Still, Allen's advice to students was simple.
"Do as many performances as you can, work on yourself as an actor, study with really interesting people, and read all the plays you can get your hands on," Allen said.
It was a scene from the classic high school movie "Grease" that inspired the short film "Telephone" by Genevieve Smith and Annabel Sebastiani, two sophomores at Sonoma Valley High School.
"Telephone" was the final video played during the student presentation and each film that passed created more tension and suspense for Smith and Sebastiani's comedy short. The film begins with a simple message that Smith is being kicked out of the high school basketball team. But as word spreads, the story begins to take on a life of its own, fueled by the imaginations of its messengers.
"It was kind of nerve-wracking, having everyone react to everyone's movie, and then having like this big buildup for everyone to see yours," Sebastiani said. "Everyone we put in our movie…it was their first time seeing the final product on the big screen."
Smith's older brother had also attended Hansen's media arts program, and she and Sebastiani had been brainstorming ideas for their own film for years. Growing up as childhood friends, they saw the other student directors and actors as much older than them; that their own student showcase was extinct in the distant future.
Until wednesday.
"Finally we got our film at the film festival," Sebastiani said. "And we got to watch it together and do it together and it was like crazy that actually happened."
As they watched the film, "cringing at the parts we were in," they anxiously waited holding hands for the audience's reaction.
"It was so weird because it's our first week back to school where we're not wearing a mask, right? It's an option" to see the faces of classmates, Smith said.
They were in eighth grade and returning from spring break when the pandemic closures were announced. And Smith remarked on the strange and poetic nature of returning from another spring break two years later without a mask mandate and enjoying a theater full of maskless comrades.
"Getting everyone to watch your movie without a mask, like seeing their reaction clearly. It was cool," Sebastiani said. "It was just…it was good. It was normal."
Speaking to his class on Thursday, Hansen described what it was like to re-enter the Sebastiani Theater after 2 years where COVID-19 didn't just stop SIFF – it stopped it from seeing the faces of its students. .
"It was like walking in the door and saying, 'We're back,'" Hansen said.
The Sonoma International Film Festival continues through Sunday, with films, food events and a celebrity tribute to Jacqueline Bisset. Funds raised by the festival help finance the Media Arts program, with the goal of inspiring a new generation of filmmakers each year.
Contact Chase Hunter at chase.hunter@sonomanews.com and follow @Chase_HunterB on Twitter.